E-Detective Helps Taiwan Police to Arrest Hundred Suspects in Cyber Fraud Crimes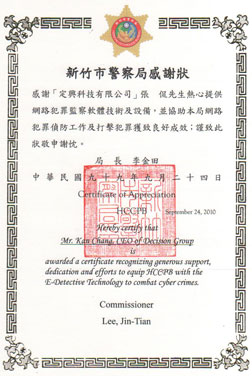 (Sept. 29 from Taipei) Mr. Casper Chang, CEO of Decision Group, awarded a honor from Hsinchu City Police Department for he helped police to break a significant cyber fraud crime group with DG powerful network forensic tactic system – E-detective.
For the past several years, Taiwan cyber fraud criminals are very active in Taiwan, China, Hong Kong, Philippines, South Korea, Japan, Singapore and Vietnam. Lots of civilian in this region suffered such crime and lost billions of money.
By the advantage of same culture and social background, Taiwan police know their mindset and behavior model very well.
These criminals always commit Internet fraud by the way of VoIP phishing. By the anonymity and ubiquity of Internet, they pretend officers of agencies, prosecutors, bank clerks to confuse victims through VoIP phone, have them transfer their money through ATM to dummy accounts, and laundry this 'dirty money' to some other place.
Since 2005, Decision Group has cooperated with Taiwan Police to prevent from such cyber fraud crimes. After 5 year development, DG E-Detective now has many powerful functions to intercept all network data packets used by these criminals, reconstruct into meaningful intelligence, and provide valuable link analysis for police to investigate crimes.
In July, and August of this year, Taiwan police broke several cyber fraud crime groups in Taiwan, and found out that victims are all over Taiwan, China, Hong Kong and South Korea. For such crime investigation, DG E-Detective played a very important role to help police to monitor fraud activities of VoIP, to trace the route, to find the hidden telecom room.
"We hope Decision Group can provide police an effective powerful weapon to fight against cyber crimes with advance technology." Casper Chang said, "As technology is progressing so fast, police should also keep pace with this development. Decision Group will keep on providing powerful high tech weapon for police all over the world against cyber crimes."
The honor of this award also represents the achievement of long term effort from Decision Group in cyber crime prevention. "We must keep our system with most advanced features in order to effective combat high tech crimes. That's our mission and responsibility. We will always keep it." Casper said in the award ceremony.
About Decision Group
Decision Group, established since 1986, is one of the leaders in manufacturing of PC-Based Multi-Port RS232/422/425 Serial Cards, and Industrial Automation and Control Systems. Decision Group, since the year 2000, started new line of industry involved in designing and development of equipment and software for Internet Content Monitoring and Forensics Analysis Solutions.
Decision Group also provides OEM/ODM of its current technology and solution to other partners worldwide. Decision Group has also developed a comprehensive training course, known as Network Packet Forensics Analysis Training (NPFAT), and has established training centers worldwide for hands-on real scenario training, with certification option as well.