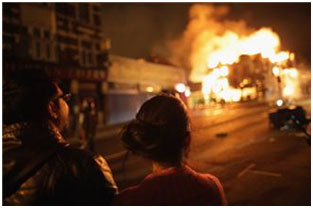 Though historian Peter Ackroyd said riot is part of heritage of London in history, people are still surprised at the abrupt riots aroused in Tottenham, north London neighborhood on 6 August, 2011. This riot lasted for 5 days, spread from London cross Liverpool, Manchester later on, and caused millions GBP of damage. Mark Duggan's death was the direct cause of this riot, but there are lots of complicated factors behind it. This event of riots was just like an erupting volcano, which is dormant for a long while.
There are, according to many sociologists, several characteristics, which make it different from the previous riots in London: First, mobs were mobilized by new technologies: social media on Internet and SMS by mobile phone. Most sporadic riots in this event were organized loosely through cyber communities of twitter, Blackberry. It is hard for police to locate resource to control it on streets just in time.
Second, most of rioters were young guys, who may not be gangsters on the street. Even some of them are well educated, and are skillful with computer stuff. They may be frustrated about social structure, and are dissatisfied with finance situation they are trapped in.
Third, the most important feature among these young rioters is that they highly relied on high tech communication to call on series of riots. They also know how to protect group communication by encrypted way in order to prevent it from police investigation.
Fourth, the nature of riots lacked of a clear political or moral consciousness though it started as calling for social justice. The targets of looting are those independent shops and chain stores in streets, and the focus are those box fresh trainers, smart phones, clothes, and electronics…etc.
Some social analysts try to compare such riot with Arab Spring events in the first half of 2011, and find out some interesting commons, but lots of differences. The major focus is why politician and government in this well developed, industrial country are ignorance of such phenomenon among these frustrated young guys. May such riots be prevented in other countries?
It is not easy to answer this question. "Every government should understand people voices of different walks in society," said Casper Chang, CEO of Decision Group, "and it is responsibility for every politician to fulfill most of expectation of citizen, especially those young guys in Internet age. They have different social viewpoint from ours on this world because of pervasive cyber communication."
For government officials, they should collect public responses on government policy and action, understand these issues, and provide solutions or resources to ease the social tension behind. Traditionally those officials always collect such civil voices from newspapers, TV, radio, and questionnaire…etc. Nowadays, the young generation frequently access Internet, and communicate with each other through blogs, emails, social media, Skype and instant messengers. How come to know their thoughts and behavior pattern without understanding these online services?
For past 10 years, Decision Group has developed network forensic equipment and helped Internet service providers to collect subscriber online behavior information for marketing analysis. With the same operation model, officials can also collect lots of comments and opinions from netizens on government policies, actions. The more the administration knows people voices, the better they can take action to ease social tension.
In some countries, Decision Group has helped government of several countries to implement such people voice survey system, and also got positive feedback from both government and citizens. Please contact with us if you want to more detail on it.
About Decision Group
Decision Group, established in 1986, is one of the leaders in manufacturing of PC-Based Multi-Port RS232/422/425 Serial Cards, Data Acquisition, Measurement Products, Industrial Automation and Control Systems. Decision Group, from the year 2000, started new line of industry involved in designing and development of equipment and software for Internet Content Surveillance and Forensics Analysis Solutions.
Decision Group also provides OEM/ODM services of its deep packet inspection (DPI) technology and solution to other partners worldwide. Decision Group has also developed a comprehensive training course, known as Network Packet Forensics Analysis Training (NPFAT), and has set up training centers worldwide for hands-on real scenario training, with certification option as well.